A new step in my writing journey was to attend the ACFW (American Christian Fiction Writers) Conference in Nashville in late August. I'd signed up months before, and when the time came I decided, instead of flying, I'd take a road trip.
The town of Asheville, NC, is about halfway to Nashville, so I made plans to stop there overnight both coming and going. I highly recommend Asheville. Not only is it a charming, fun, artsy town but there is a ton to do. (Apparently it's a national capital for craft breweries, if you like beer…) Of course there is the Biltmore House, the largest private residence in the U.S., outdoor activities (like hiking, rafting, ballooning), and downtown Asheville (very cute), including the River Arts District. I dedicated a morning to the Arts District to satisfy my pottery cravings.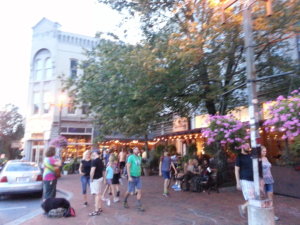 So back to the conference… Over 500 people descended on the Omni Hotel in Nashville, TN, writers, aspiring writers, agents, editors from all walks of life, some from other countries, and all of them eager to learn and advance in their craft. I wanted to present my new book, Prodigals in Provence, to agents and editors to see if there was any interest. I'm not sure if the title will stick or not, but you can get a small idea of the theme. It's a romance that takes place in France. I like to write about France, since I love it and lived there for so long.
Pitching a book involves a verbal description, mostly. If the agent is interested they ask for a proposal, which is more detailed. Three sample chapters, a synopsis, a market study…all this will take some time. And of course, the book needs to be as polished as possible. So…still working on that, but I'm setting deadlines for myself.
So that's the current chapter of my writing journey, and it's pretty exciting! Stay tuned. And meanwhile, enjoy some of my photos of the trip! (these are from Asheville)