It's the month of May, and I'll bet your May has started out differently than usual. Often full of graduations, vacation preparations, and other transitions, this May is still virtual on a lot of those things, but slowly opening up. How is it going in your corner of the country?
We're still hearing dire news from many parts of the world, though, in the U.S., the talk is about vaccines. Getting them or not, or when, or what will happen when we do. Some lines are being drawn, a sort of vaccine discrimination of sorts, but we'll get through this, one way or another (not taking sides, just observing.) We've never lived through such a scenario before, so it's all about finding our balance and taking it one day at a time. Like me, you're probably thankful for any small sign of normal life returning.
My Update
Personally, I'd like to be able to look back on this very strange and tragic year and a half and know that I'd changed in a significant and positive way. I often have to remind myself to think about that and not just get absorbed in my "new normal". Though I disliked that phrase at first, I have to admit, some things have changed possibly for good (not necessarily for THE good.) Knowing things always change somehow helps me know that God won't let us get stuck. But it's up to us to keep growing, keep converting each challenge into a positive trajectory to make us better, more faithful kids of the King.
On books, I'm happy to say I've finished the first draft of Sydney Rewound, the next novel in the Second Chance Series. You likely know about Marissa, who started off the series with a novella, then Julia, a full-length novel that took us all on a vicarious trip to Florence, Italy. (If you don't know about Marissa, get your copy free on this website!)
Sydney takes us closer to home. I think you'll enjoy it (there's a beach!) I sure enjoyed writing it. I feel a kinship with Sydney, whose mouth often gets her into trouble. She doesn't always stop to think before she speaks, but she ends up learning a lot, so you'll enjoy getting to know her better. Her story should be available mid to late summer, so stay tuned.
On a personal note, I accomplished a dream (sort of) last month. I was able to visit the Virgin Islands. It was such a refreshment after the last year we've all been through. I'll include some pics just for you. (Awesome, isn't it?)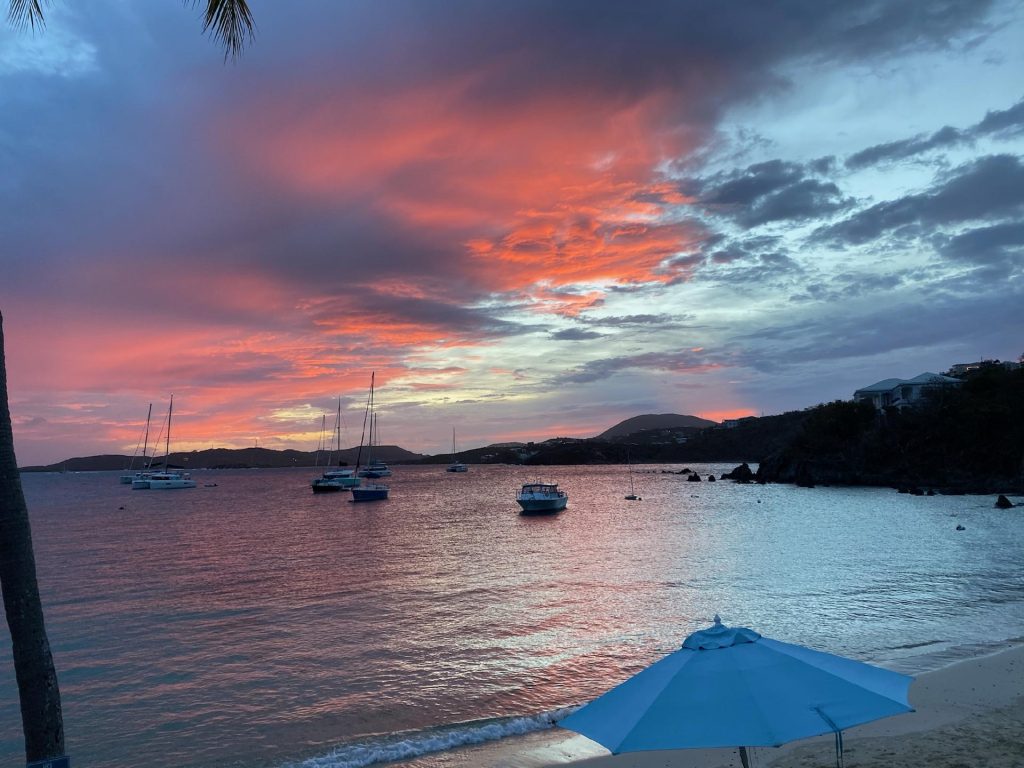 What's coming up? Editing for Sydney and a couple of non-fiction projects. I have a travel blog called Oliver's France and I've just finished an eBook with 5 road trips around France. I'm in the process of putting it onto my Oliver's France website, so soon you'll be able to get it free there, if that interests you. And in case you're wondering who Oliver is, my pen name for non-fiction is K. B. Oliver, after my departed cat, Oliver. Hence the name. (He was adorable and I miss him!)
What does summer hold? I hope it holds an adventure (the good kind) for you! Even if you're not able to get away, take a day trip, it'll do you a world of good.
For me, following Sydney, there's Eden and she'll wrap up the series. (And I'll try for a few more beach days along the way!)
I hope May ends up being a good time with great memories!  Keep reading!
Kyle