Healed by Love and Thankful
As the month of November draws to a close, I'm feeling thankful. Of course, our annual Thanksgiving holiday brings us to focus our attention on that. I'm thankful, too, for another year on this earth with a decent life and good health. (I'm not crazy about the new number representing my age, but Happy Birthday to me anyway!)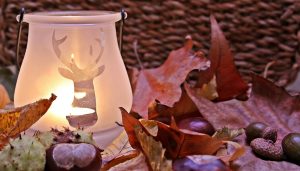 I don't think I'm more thankful at Thanksgiving than on other days of the year, and I'm thankful for that! God has helped me cultivate an attitude of thanksgiving all year-round. He did that as I went through (figurative) fires. As I returned from a long-term ministry in France with my life, marriage, and ministry coming apart at the seams, I had to rebuild. My spiritual life had been in a desert for several years already. It wasn't all-out desertion, but rather a cooling of my heart's passion. In order to reconstruct my heart and my life, I started each day thinking about what I was thankful for. I began to see how very much God loved me and that he was with me through all of the foregoing, as well as going forward. As I read a well-loved devotional (Jesus Calling, of course!) I read each Scripture that went along with the daily reading and it kept jumping out at me how full of love our God is. Over time, he healed me with love. Remembering his love and being thankful for it, as well as whatever I did have (as opposed to thinking of what I didn't have) made me a happy person again.
"May you be filled with joy, always thanking the Father. He has enabled you to share in the inheritance that belongs to his people, who live in the light. For he has rescued us from the kingdom of darkness and transferred us into the Kingdome of his dear Son, who purchased our freedom and forgave our sins." Colossians 1:11b-14
Puts thankfulness into perspective, doesn't it?
                                                                                                      Currently…
This was my first Thanksgiving ever that I hosted in my home with my mom present. Since her move, I've been able to see her and help out a lot more. It was our first Thanksgiving without my sister, but she did well. Yesterday I finished the first draft on my novella. It doesn't have a title just yet, so I can't tell you that. Just stay tuned! I'll be offering it for free, so you'll have the first look at it when it's ready. I want to wish you a blessed Christmas season that's full of joy and thankfulness! And as a result of thankfulness, even more joy! I'm excited about all that God has planned for us in 2020! Kyle