Depending on where you live, you may have seen signs of spring approaching or even arriving. Here in Raleigh, NC, we're having a day close to 70 degrees. We had one or two of those over the winter (to our jubilation!) and we've had one snowfall. Gotta have at least one, right? Since I've lived here, we have always had at least one. Of course, it doesn't last more than a day and two days after that, everyone is wearing shorts (the college students, at least.) It's good to be emerging into sunshine, getting rid of the gloves and coats!
As I write this newsletter, the coronavirus is the global preoccupation. A day doesn't go by that we hear about precautions to take and its toll across the planet, country, and state. It's getting too close to home now. Today, a friend of mine advised me to buy three weeks of groceries. (Very hard to do when my kitchen is being renovated and I'm still doing dishes in the bathtub.) It's a sobering season, one which will have emotional and economic fallout for years to come. There's not much I can add to the discussion, except a few thoughts that came to me.
The earth has over 6 billion people and many of us, regardless of culture, are engaging in some of the same behaviors. We're limiting and canceling activities. We're reconsidering and refining what's important to us. It's rare that the diverse residents of this planet are unified on one focal point. Now is such a time, for all its tragedy and fear. It makes me want to stop and reflect on that rare event.
It's hard to imagine this, but one day the entire earth will be focused on the Lordship of Jesus. What a different focal point! Yes, there will be fear for many, and there will be joy for many. Today, we see people continuing their lives amidst the dangers of the virus. Amidst dangers to their souls, too. One day, no one will continue life as usual. Not one.
And this is the plan: At the right time he will bring everything together under the authority of Christ–everything in heaven and on earth. Eph. 1:10
Marissa Revealed!
In my last newsletter, I talked about a novella I had just finished. It has a title now: Marissa Rewritten. It's about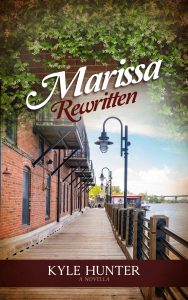 an author who has a writer's block following her husband's death. Through the events that happen next, she experiences some "editing" in her life, some from surprising sources.
Not only is the title revealed, but the COVER is, too! Here it is! As I told you in my last letter, because you subscribe to this newsletter, I will send you a link to access the novella in the coming days. I hope you enjoy it!
I wish you a contented, peaceful and healthy spring!
Kyle