Hope your holidays were full of joy and fun! Now, the lull. But wait, there's a new book out…it's the book I've been telling you about. The one I just finished.
Good Gifts
It's the first book in a brand-new series, the Brenner Falls Series. Brenner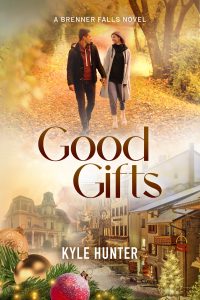 Falls is a small but up-and-coming town in the Susquehanna River Valley, Pennsylvania. The series starts with Nathan and Leah. (And will continue with a bunch of new friends you'll want to meet!)
Read about their story!
Nathan Chisholm's high-pressure job in the big city is interrupted by an inheritance he doesn't want, a struggling dinner theater. He returns to his hometown of Brenner Falls, Pennsylvania, so he can sell it fast and return to his normal life.
Leah Albright's plans for her life went up in smoke and she's forgotten how to dream. Instead, she spends her days at a dull job in Brenner Falls and her evenings with musical instruments and her cat. As holidays approach, she fakes cheer to stave off her disappointments.
Nathan and Leah rekindle the friendship they had in high school and attraction brews. But Nathan's leaving town once he sells the theater. And the residents of Brenner Falls, including Leah, don't want their beloved historic theater sold. And certainly not to the developer who's been lurking around.
Nathan finds himself trapped by well-meaning decisions and growing feelings for Leah. He may have gone too far to turn back from the risks to his future and his heart.
I've put the eBook on sale for you through my author store until January 4. Use the coupon code NEWBOOK to get 50% off. Click HERE to go to the author store. (You'll get 2 emails, one from Payhip and a second one from Bookfunnel. Wait for the email from Bookfunnel, which will give you clear instructions on downloading the book to your device.)
I hope you enjoy the book! (And thanks in advance for your reviews on Amazon or wherever!) If you prefer to buy it from Amazon, here's the link.
As the New Year approaches, I give you my sincere wishes for a healthy, happy, and blessed 2023!
Warmly,
Kyle