Good morning! I have great news! Just in time for your Christmas reading, Julia Redesigned is available in paperback and eBook.
As you may know, Julia Redesigned is the second book in the Second Chance Series. In case this is all new to you, I'll give you some background on the series.
In The Second Chance Series, you'll meet Marissa, Julia, Sydney, and Eden, four college friends who, twenty-five years later, renew their friendships as they find themselves empty nesters and single again. You'll love getting to know these women and their special friendships. Although all of the women appear in all of the books, each woman has her own story to tell you about her struggles and her journey. Marissa Rewritten (the novella available free on this website) is the first in the series. You can still enjoy Julia Redesigned if you haven't already read Marissa's story. But you'll enjoy it even more if you have!
Here is Julia's story:
Can a stack of letters provide clues to an age-old conflict and a doorway to a new family?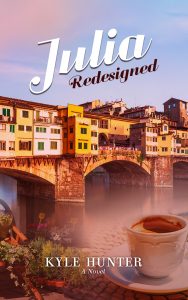 For the last three years, Julia De Luca has juggled her successful interior design business with caring for her elderly mother. Following her mother's death, Julia finds old letters from distant relatives in Italy. They remind her of visits she and her mother made when Julia was a child. Could these letters hold the answer to why their trips to Italy ended abruptly when she was ten years old?
These people whose names she's forgotten are the only family Julia has left on earth. How can she reconnect with them after so many years? Would it be crazy to try?
Her compelling desire to locate her distant family leads Julia on an impulsive trip to Florence, Italy. Along with savoring the sights and flavors of Florence, Julia discovers that families can be messy, that it's not too late to fall in love, and that there's more to Julia De Luca than she ever knew.
You may be stuck at home this year, but you can visit Florence, Paris, or Provence with my novels that take you places. Julia Redesigned is available HERE.
Note: this is an Amazon link but the book will also be available through Barnes and Noble, Apple, Kobo, and several other retailers, in case that's your preference!
I'm excited to finish this story and offer it to you. I know you'll enjoy getting to know Julia and seeing what she does and what she learns (hint: there's romance, too!) in Florence, Italy! I hope you'll meet her soon!
Happy reading and have a very Merry Christmas. The world may feel uncertain, the festivities may be scaled back (a lot!) but the reason for our hope is still shining as brightly as ever.
Kyle