Lately, my mind has been in faraway places.
A lot of the time, I'm in Provence. The reason for that is my new book, A Promise in Provence. It's finally finished! This is the sequel to Prodigals in Provence, but it reads mostly like a stand-alone novel. Of course, I'd love for you to read Bree's story in Prodigals in Provence as well! Prodigals and Promise are books in my first series (a series of two!), the Provence Series. Book One, Prodigals, is about Bree Sorenson, uptight control-freak tour leader…who wants to change.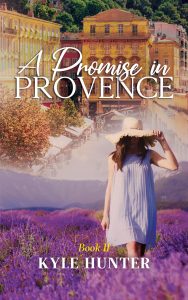 Her calm best friend, Lauren, is calm for a reason. And it's not what you think. You can read her story in the soon-to-be-released (look for it next week!) A Promise in Provence. The book summary is below, and you can read the summary for Prodigals on this website on the BOOKS page.
This is the last time you'll see the Prodigals cover, though. I have had it redesigned at the same time as Promise so that for both books you'll enjoy beautiful cover art that makes you want to go to Provence…now!
Here is Lauren's story in A Promise in Provence:
Lauren is at a turning point. If only she knew where to turn. Her long-term relationship with Mark is fading fast. Instead, she feels drawn to Jean-Pierre, an attractive Frenchman she'd met the previous summer. When she's laid off from her job as a chef, she decides to go see him in Provence, France.

Mark can't get Lauren out of his heart, even though it's been close to a year since she asked him to give her space. When she goes to France, he's afraid he'll lose her for good. That is, until he decides to go there, too, as a last-ditch effort to win her back.

At first, Lauren is angry that Mark follows her to France. But a joint desire to help a young refugee boy leads them to work together. Lauren finds herself torn between the two men. Worse, she's confronted with obstacles in helping the boy and even greater obstacles within herself.
I hope that stirs your love for a good romance and your sense of wanderlust! Take a vicarious trip to Provence!
The other place that's occupying my mind is two places, Spain and Italy. I'll be leaving soon for a trip there that doubles as a research-my-next-book trip! I'll send visual updates on Facebook and Instagram.
I'll send up a flare as soon as A Promise in Provence is released. I hope you'll join me on this journey to Provence!