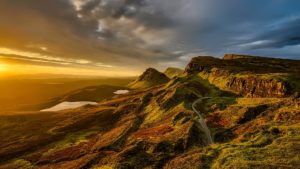 You just never know how you'll get a nudge from God. Most people don't think they see evidence for God's work because they aren't looking for it. Those that do look for it see it everywhere. But even then, it's an acquired habit that begins with faith and a decision to look for his fingerprints.
However, sometimes it happens when you least expect it . . . and how you least expect it.
In a particularly dark period of my life, I struggled to find an incentive for each day. I had a cookbook sitting on my desk and flipped through it, hoping for inspiration for dinner that night. It was a cookbook that had either verses or other sayings on the bottom of each recipe. My eyes fell onto a verse I'd never seen before. The verse said, "Know therefore today, and take it to your heart, that the Lord, He is God in heaven above and on the earth below; there is no other." Deuteronomy 4:39.
This verse became a kind of mantra for me, infusing hope into my dark season. Daily I mentally walked through this verse, focusing separately on each command: Know therefore today (acknowledge that he is God and able to guide me through my circumstances and take the burdens; do be done daily) and take it to your heart (be encouraged, uplifted by his character and promises.)
Later as my situation became more uncertain, I found myself in need of that "mantra." So daily I acknowledged . . . and took heart. This served as an alignment tool to remind me that I could have peace whatever was happening because he was in loving control of my life's messes.
On a different day months later as I was checking out at the mechanics after an oil change, I noticed a tattoo on the arm of the cashier. It said, "Strength and dignity are her clothing and she smiles at the future," from Proverbs 31. I had to chuckle at the unusual source of that encouragement! This thought fits with another favorite verse from Jeremiah 29:11: "For I know the plans that I have for you," declares the Lord. "plans for welfare and not for calamity to give you a future and a hope." It's a well-known verse, but always powerful in its truth.
Do you have a passage, verse, or quote that guides you through a particular period of your life? How did you find it? Share in the comments.