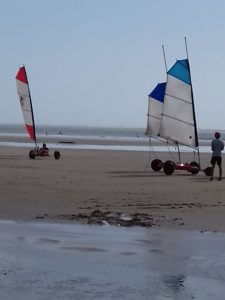 A few years back I had a life change. I was changing countries and changing professions. I'd been living in Europe for several years and out of the U.S. job market for many more. When I returned and needed to find a job, I didn't feel very marketable. I figured if I were to find a job at all, I'd have to create it myself.
I had an idea, at least, to start. One of the things I did when I lived in France was teach English to retired people. I loved doing that, and really enjoyed working with that particular group of learners. As I returned I considered: What can I still do that could be turned into a job? The answer for me was French.
So I dove in. I created a program of language and culture and marketed that to retirement communities (and there are a lot of these where I live). It got me started, and I was able to branch out from there. At first diving into the unknown, being creative with what little I felt I had, was a necessity. Soon after that, it became an acquired taste, then a preference. It's fun to see what you can do!
I've had to do the same thing with writing and editing. I say, "Oh, where do I start??" Then somehow, I start. And finish. (And sometimes start and finish again.) I resist, because it's hard and I'm not that good at it just yet. Sometimes I take the lazy way, and other times I muscle through the resistance and feel…empowered. Like I can take the next step.
Think about your abilities and gifts. They might not seem like much to you. I can tell you, I didn't feel equipped, when I looked at job openings and nearly everything was technical or medical or scientific. So I took what I had and was surprised to find an eager community of learners. What area might be the same for you?
Here are some questions you can ask yourself:
What am I good at? What do I enjoy?
What might there be a demand for, even a small one?
What holds me back? Outward factors, circumstances?
Are there inward factors, fears, self-doubt that stand in your way?
Sometimes it helps to just identify these things, first what the desire is, and second, what the obstacles are, then go from there. Piece by piece. It doesn't have to be a new career, but it might be. May just be a new hobby or activity you've hesitated to try. Start with a low commitment, just to try. Might be a new group activity, a Bible study or new church, might be a new social group.
It's scary at first, but it's only brand-new once.