"We've all been there. Is he the one? What will my family think? What if I have made a mistake? Nikki struggles with all of this and more as we see her blossom in to a independent woman. I loved her journal of Daring Things and her courage to follow through. It inspired me to reevaluate my own life. A very beautiful love story."
One December
Is there any way to recapture what happened under a Christmas moon one December?
Nikki has loved Mike for as long as she can remember. Mike has his own past hurts to resolve, having lost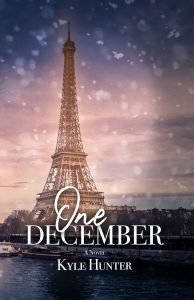 both parents in an accident when he was fourteen. He's tried to escape those painful memories by leaving New York and starting a new life on the West Coast. New facts indicate, years later, that his parents' deaths might not have been an accident.
Nikki is devastated, believing her one chance for a relationship with Mike is over.  She impulsively takes a one-year teaching opportunity in Paris, so that she can face her own fears and get over Mike.
If Mike and Nikki run away, how can they find each other again?
"One December sizzles with romantic tension, taking the reader on a roller-coaster ride from New York to San Francisco, with a delightful detour in Paris.  I couldn't put it down!"

– Elizabeth Musser, author of The Secrets of the Cross trilogy and The Swan House.
Buy in the following stores
Available in paperback at physical bookstores by ordering
It is possible to leave a review (the same one is fine!) on all of the above storefronts, regardless of where you bought the book. It would mean a lot to me if you'd consider doing that after you read the book! Thanks so much!
Be the first to know when Kyle Hunter's next book is available! Follow her at https://www.bookbub.com/authors/kyle-hunter to get an alert whenever she has a new release, preorder, or discount!