Non-Fiction Books for Christian Growth
Mental Habits for Believers: 28 Days to New Thought Patterns
How do your thoughts flow when you aren't paying attention?
Our thoughts can influence our emotions, our approach to life, and our futures. In Mental Habits for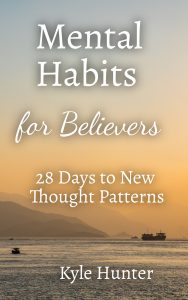 Believers, 28 daily readings complete with reflection questions give you essential tools to redirect your thinking. You'll see that in a short time, you can build helpful and Biblical mental habits, which will improve your whole life: spiritual, emotional, goals, and relationships.
You can:
Identify negative mental habits in your own life
Learn positive habits, one at a time
See how God's truth can change the way you live
Feel better about your life and future
Be better able to apply Biblical principles to your life by developing healthier thought habits
Don't risk your future to random, unguided thought habits that may take you off track. Decide now to invest in mental habits that can change your future.
Scroll down to read the Table of Contents.
Read the Introduction
Buy Now at the following stores
Table of Contents

Introduction

Day One: Do I Have Mental Habits?

Day Two: Your Essential Mental Habit

Day Three: Can You Change Your Brain?

The 8 Mental Habits                                                           

 Habit One: Positive Thinking

Day Four: The Power of the Positive

Day Five: Let's Get Positively Practical

Day Six: Intentional Positivity

Habit Two: Interpretations and Mind Frames

Day Seven: Interpretations and Their Impact on Us

Day Eight: Adjusting Interpretations

Day Nine: Making Mind Frames Work for You

Habit Three: The Habit of Self-Esteem

Day Ten: The Vital Importance of Self-Esteem

Day Eleven: A Self-Esteem Assessment

Day Twelve: Transforming Self-Esteem

Day Thirteen: Continuing the Self-Esteem Journey

Habit Four: Living in the Present

Day Fourteen: Definition and Distractions

Day Fifteen: The Intrusion of the Past

Day Sixteen: Worry and the Future Trap

Habit Five: Specific Thinking

Day Seventeen: Specific vs Global Thinking

Day Eighteen: Critical or Emotional Thinking?

Habit Six: The Habit of Self-Responsibility

Day Nineteen: Agents or Victims?

Day Twenty: More Powerful Than You Think

Day Twenty-One: Make Your Life Better

Day Twenty-Two: Decide to Decide (Trust is a Choice)

Habit Seven: The Habit of Openness

Day Twenty-Three: Open vs Closed

Day Twenty-Four: Be Curious. Be a Bridge

Day Twenty-Five: A Big World

Habit Eight: Knowing Yourself

Day Twenty-Six: The Rudder of Your Life

Day Twenty-Seven: Have You Lost Your Way?

Day Twenty-Eight: Glad to Meet Me

Putting It All Together

Questions for Group Discussion

About the Author