In A Second Chance Series, you'll meet Marissa, Julia, Sydney, and Eden, four college friends who, twenty-five years later, renew their friendships as they find themselves empty nesters and single again. You'll love getting to know these women and following each one in her own book.
"Great easy-to-read novella! This was my first by this author and I look forward to reading more. The setting was charming, the characters were like-able and their journey was realistic and inspirational."  
Marissa Rewritten
Second Chance Series Book # 1 (A Novella)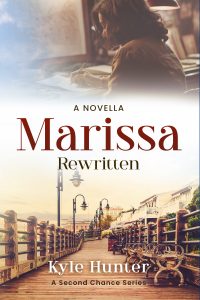 Author Marissa Thompson has had writer's block since her husband died almost two years earlier. Her three closest friends are a comfort. Despite this, things are getting urgent as her career hangs by a thread and repairs on her historic home mount up. Prodded by desperation, Marissa heads to Wilmington, North Carolina for a Civil War research trip. She hopes for inspiration but receives support from a surprising source, a feisty character from her last novel.
Widower Jarrod Lambert has always been close with his only daughter Bethany, a college student, but she seems to be slipping further away from him. In an effort to reconnect with her, he makes an impulsive trip to see her in Wilmington.
Through an accident, Marissa and Jarrod meet and discover common ground. Will it be enough to overcome the obstacles standing between them?
Buy Now at the Following Stores
Available in paperback at physical bookstores by ordering
Amazon Box Set (All 4 books in series)
Apple Box Set (All 4 books in series)    Note: The Apple Box Set cover is different than other storefronts, due to Apple cover guidelines, but the content is the same.
It is possible to leave a review (the same one is fine!) on all of the above storefronts, regardless of where you bought the book. It would mean a lot to me if you'd consider doing that after you read the book! Thanks so much!
Be the first to know when Kyle Hunter's next book is available! Follow her at https://www.bookbub.com/authors/kyle-hunter to get an alert whenever she has a new release, preorder, or discount!