In A Second Chance Series, you'll meet Marissa, Julia, Sydney, and Eden, four college friends who, twenty-five years later, renew their friendships as they find themselves empty nesters and single again. You'll love getting to know these women and following each one in her own book. (Book #1: Marissa Rewritten: A Novella)
"I enjoyed Julia Redesigned so much. I couldn't put it down because it drew me into the storyline. I had to know what happened next! The book spoke truths about human relationships and about God's nearness to us. Looking forward to the next book in the series!"
Julia Redesigned
(Book # 2 Second Chance Series)
Can a stack of letters provide clues to an age-old conflict and a doorway to a new family?
For three years, Julia De Luca has juggled her successful interior design business with caring for her elderly mother. Following her mother's death, Julia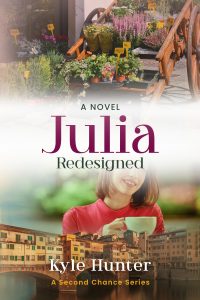 finds old letters from distant relatives in Italy. They remind her of visits she and her mother made when Julia was a child. Could the letters hold answers to the abrupt end of their trips to Italy she was ten years old?
These relatives whose names she's forgotten are the only family Julia has left on earth. How can she reconnect with them after decades? Would it be crazy to try?
Julia's desire to find her distant family leads her to take an impulsive trip to Florence, Italy. Along with savoring the sights and flavors of Florence, Julia discovers families can be messy, it's not too late to fall in love, and there's more to Julia De Luca than she ever knew.
Buy Now at the following stores
Available in paperback at physical bookstores by ordering.
Amazon Box set (All 4 books in series)
Apple Box Set (All 4 books in series)   Note: The Apple box set cover is different than other storefronts due to Apple cover guidelines, but the content is the same.
It is possible to leave a review (the same one is fine!) on all of the above storefronts, regardless of where you bought the book. It would mean a lot to me if you'd consider doing that after you read the book! Thanks so much!
Be the first to know when Kyle Hunter's next book is available! Follow her at https://www.bookbub.com/authors/kyle-hunter to get an alert whenever she has a new release, preorder, or discount!