Fall in love with a new series! Brenner Falls
Book 1:  Good Gifts
Kyle Hunter is now an auto buy author for me! GOOD GIFTS is my first book by her but holy cow! She had my emotions all over the place. Once I started reading, it was very hard to stop! The twists and turns made it impossible to put down, as I had to know what was going to happen to Nathan. His uncle has passed away and left him everything. A house and not only that, A dinner theatre! He wants to go back home, sell everything and get on with his big city life. Once he gets there, things are more difficult than he imagined. What an awesome story. All of Kyle's characters feel genuine and relatable and put your emotions on one heck of a roller coaster ride. As you are reading, you will find yourself cheering for all of them, praying they can work out their differences and be happy once again.    S. D.

Lovely small town Pennsylvania setting with a long time friends to lovers romance between two characters you like and want to root for. I loved how central faith was to the storyline and the characters' journeys.  W. E.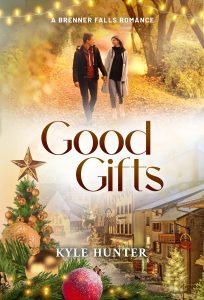 Nathan Chisholm's high-pressure job in the big city is interrupted by an inheritance he doesn't want, a struggling dinner theater. He returns to his hometown of Brenner Falls, Pennsylvania, so he can sell it fast and return to his normal life.
Leah Albright's plans for her life went up in smoke and she's forgotten how to dream. Instead, she spends her days at a dull job in Brenner Falls and her evenings with musical instruments and her cat. As the holidays approach, she fakes cheer to stave off her disappointments.
Nathan and Leah rekindle the friendship they had in high school and attraction brews. But Nathan's leaving town once he sells the theater. And the residents of Brenner Falls, including Leah, don't want their beloved historic theater sold. And certainly not to the developer who's been lurking around.
Nathan finds himself trapped by well-meaning decisions and growing feelings for Leah. He may have gone too far to turn back from the risks to his future and his heart.
Buy at the following stores
Available in paperback at physical bookstores by ordering
Apple  eBook
Nook (Barnes & Noble) eBook
Kobo  eBook
Google Play  eBook
It is possible to leave a review on all of the above storefronts (using the same link), regardless of where you bought the book. (The same review is fine!) It would mean a lot to me if you'd consider doing that after you read the book! Thanks so much!
GOODREADS Visit and Review
Be the first to know when Kyle Hunter's next book is available! Follow her at https://www.bookbub.com/authors/kyle-hunter to get an alert whenever she has a new release, preorder, or discount!