The Provence Series takes you with Bree and Lauren, best friends and business partners, to one of the loveliest regions of France. It's not always idyllic in the land of lavender fields and cliffside villages. Join Bree and Lauren as each woman discovers her unique journey—and surprising romance.
"I so enjoyed how this book brought forth forgiving the past and learning from it…I loved Kyle Hunter's vivid descriptions of Mark and Laurens's travels through France (and I will admit I am a little jealous of them!). I also enjoyed the character interactions and the challenges they faced."  
A Promise in Provence
The Provence Series Book # 2
Lauren is at a turning point. If only she knew where to turn. Her long-term relationship with Mark is fading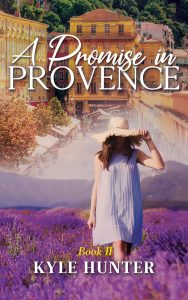 fast. Instead, she feels drawn to Jean-Pierre, an attractive Frenchman she'd met the previous summer. When she's laid off from her job as a chef, she decides to go see him in Provence, France.
Mark can't get Lauren out of his heart, even though it's been close to a year since she asked him for space. When she goes to France, he's afraid he'll lose her for good. That is, until he decides to go there, too, as a last-ditch effort to win her back.
At first, Lauren's angry that Mark has followed her to France. But a joint desire to help a young refugee boy leads them to work together. Lauren finds herself torn between the two men. Worse, she's confronted with obstacles in helping the boy and even greater obstacles within herself.
Prodigals in Provence and A Promise in Provence are also available as a Boxset, Love in Provence. Both eBooks in one volume.
Buy at the following stores
Available in paperback at physical bookstores by ordering
Box set on Google Play (both eBooks)
It is possible to leave a review on all of the above storefronts (using the same link), regardless of where you bought the book. (The same review is fine!) It would mean a lot to me if you'd consider doing that after you read the book! Thanks so much!
Be the first to know when Kyle Hunter's next book is available! Follow her at https://www.bookbub.com/authors/kyle-hunter to get an alert whenever she has a new release, preorder, or discount!